In just a few short months, Ontario will begin refurbishing 10 nuclear reactors at the Darlington and Bruce Nuclear Generating Stations. Refurbishment means replacing key reactor parts, such as pressure tubes, so the reactors can keep operating safely and at peak performance.
Refurbishment has been planned far in advance. It will extend by decades the lives of reactors that have already provided affordable and reliable electricity to Ontarians for 25 years. And because nuclear plant operations do not emit greenhouse gases, they are also addressing Ontarians' growing concerns about climate change.
Keeping on schedule
Just as with renovating your home or servicing your car, scheduling the refurbishments is key to minimizing inconvenience. After all, nuclear reactors provided 62% of Ontario's electricity in 2014, and refurbishing each reactor takes two to three years. Having too many of them offline at the same time would lead to brownouts in the power grid, or force Ontario to buy more expensive – and potentially less clean – electricity from other sources.
Ontario's 2013 Long-Term Energy Plan, which set the refurbishment program in motion, recognized these challenges. The decision to refurbish reflects three of the five core principles of the Plan: cost-effectiveness, reliability, and clean energy.
To ensure reliability, the Plan set out a sequence for refurbishment at both the Darlington and Bruce facilities: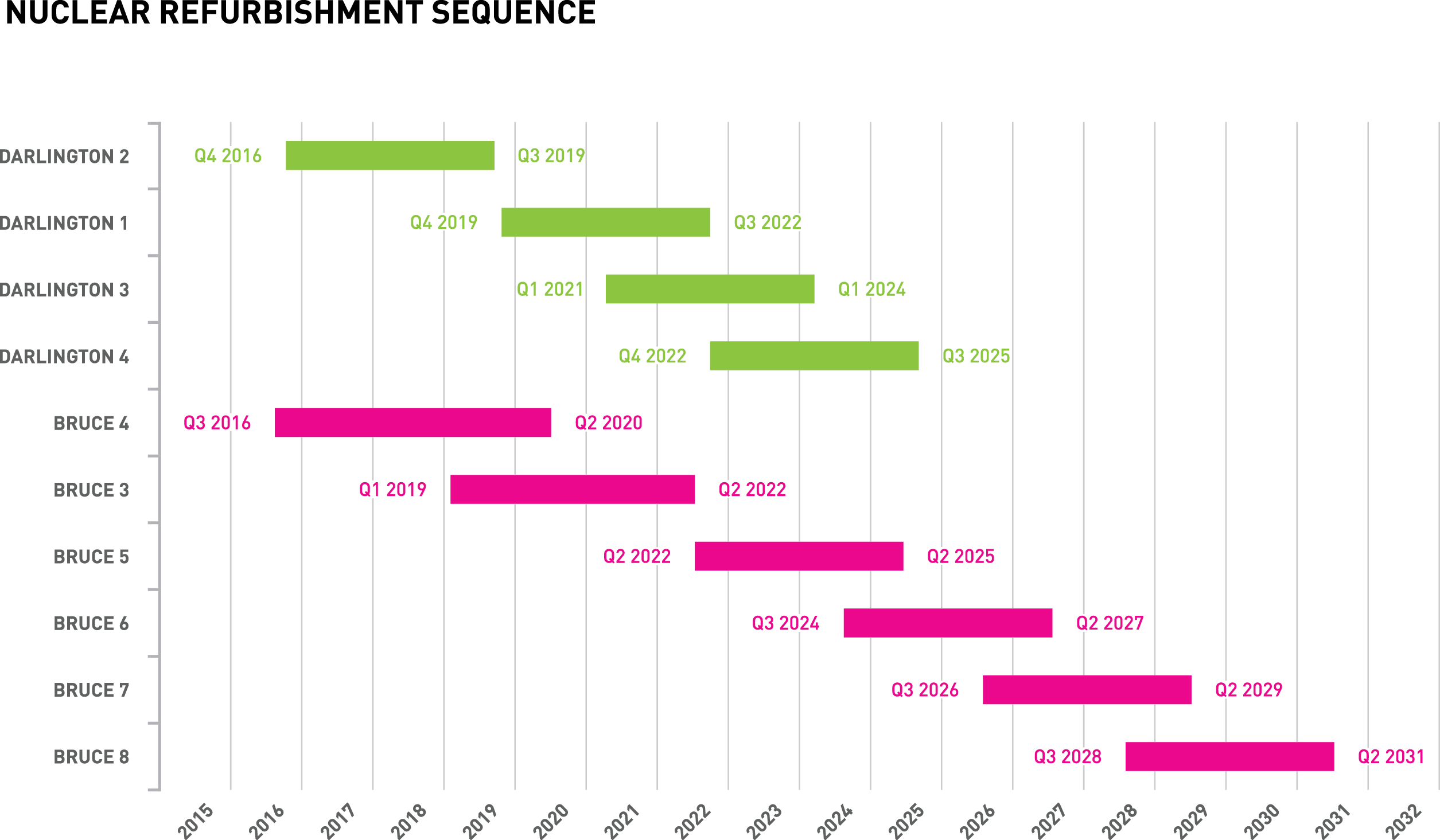 This sequence ensures that no more than three reactors are offline at the same time. It allows spacing of the refurbishments so that the teams of engineers and other skilled professionals can learn from each refurbishment. That will help them to improve their methods and generate cost savings. During the early part of the project, up to 2020, Ontario will keep operating its reactors at the Pickering facilities.
Long-term benefits
The spacing of refurbishments over 15 years will ensure that nuclear power remains the major source of Ontario's baseload power – the foundation of the province's electrical supply. It will also provide lasting employment to skilled workers who will have opportunities to continue working on the reactors they helped refurbish – contributing to Ontario's economy and growing the province's skills base.